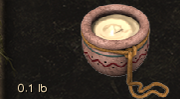 Healing Salve is a potion]that can be created using the Alchemy skill. A medical ointment that's used to heal wounds. The effect is instant.
Restores hit points outside of combat, via right-clicking.
Stops bleeding in combat, accessible via belt slot.
Making
[
]
Base reagent for healing salve is Cassava Root.
Healing Salve by Alchemy Levels
[
]
| Alchemy | Heals | Weight | Sell price |
| --- | --- | --- | --- |
| L2 | 15 HP | 0.1 lb | 20g |
| L4 | 20 HP | 0.1 lb | 30g |
| L6 | 25 HP | 0.1 lb | 40g |
| L8 | 30 HP | 0.1 lb | 50g |
| L10 | 40 HP | 0.1 lb | 60g |