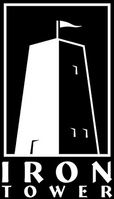 Iron Tower Studio - a small, independent studio formed in 2005. Animator Ivan was the one who came up with the name [1].
The Age of Decadence was made by a team of six [2]:
Programmer - Nick Skolozdra
Animator - Ivan Soloviov
Artist/Designer - Oscar Velzi
Writer/Designer - Vince D. Weller (pseudonym)
2D artist - Mazin [3]:
Composer - Ryan Eston
Around 2006, the team had four people: programmer; artist; animator; writer [4].
Links
[
]
References
[
]