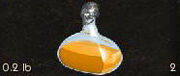 Liquid Fire is a potion that can be created using the Alchemy skill.
Weap. Class: Throwing (One-handed)
Can be placed in a belt slot
Range: 5 tiles
Creates fire in the area for a couple of turns. The enemies will not step on it, so it can be used to creater barriers.
I'm assuming it last 3 turns.
Types of Liquid Fires
[
]
| Type | Base Reagent | Modifier Agent | Weight | Description |
| --- | --- | --- | --- | --- |
| Liquid Fire | Rock Oil | - | 0.1 | A small flask with liquid fire. When thrown, it will "fall like a fiery whirlwind on thy enemies". Why not, eh? |
| Liquid Fire (Strong) | Rock Oil | Sulfur | 0.2 | A small flask with extremely potent liquid fire. When thrown, it will "fall like a fiery whirlwind on thy enemies". Why not, eh? |
| Liquid Fire (Burning) | Rock Oil | Quicklime | 0.2 | A small flask with liquid fire. When thrown, it will "fall like a fiery whirlwind on thy enemies" and continue to burn. Why not, eh? |
Liquid Fireby Alchemy Level
[
]
Type
Alchemy Level
Damage
Burning damage
(3 turns)
Sell price
Liquid Fire
L3
2-5
-
75
Liquid Fire
L5
3-7
-
105
Liquid Fire
L7
4-9
-
135
Liquid Fire
L9
5-11
-
165
Liquid Fire
L10
6-12
-
180
Liquid Fire (Strong)
L6
8-12
-
220
Liquid Fire (Strong)
L7
9-14
-
220
Liquid Fire (Strong)
L9
10-16
-
220
Liquid Fire (Strong)
L10
11-17
-
220
Liquid Fire (Burning)
L9
5-11
1-3
300
Liquid Fire (Burning)
L10
6-12
1-3
300