m

 

(5 intermediate revisions by the same user not shown)
Line 1:
Line 1:
 
+

{{Tocright}}

−

'''Monastery''' is one of the locations in the game [[The Age of Decadence]].

+

'''Monastery''' is one of the locations in the [[]].

 
 
 
⚫
⚫
 
⚫
 
 
 
 

Note - Do not visit until you're ready to face either the [[raiders]] or villagers, because the raiders eventually ransack the monastery.

 

Note - Do not visit until you're ready to face either the [[raiders]] or villagers, because the raiders eventually ransack the monastery.

Line 12:
Line 12:
 
 
 

=== Rewards ===

 

=== Rewards ===

 
⚫
−

{{Spoilers|

 
⚫
 
 

* +6 Civil skill points, +6 skill points, for peaceful path

 

* +6 Civil skill points, +6 skill points, for peaceful path

 
 
 
⚫
−

;Items

 
 
+

This area is forbidden by the villagers (if they are alive).

−

* [[Amaranthus Extract]]

 
 
+

[[File:Titan's Gate.png|thumb|Titan's Gate]]

−

}}

 
 
+

=== Titan's Gate ===

−
 
−

== Monastery Interior Chamber ==

+

Monastery Interior Chamber

−

{{Spoilers|

+

{{Spoilers

 
+

|title=

−

* Can be accessed by Portal from [[The Slums]] well. Need a [[Large module]] from [[Tiresias]] or Minaret.

 
 
+

=== Potions Room ===

−

* Portal to Minaret accessed from [[Inferiae]] Tower

 
 
+

|content=

−

* You need [[Lore]]:[8] and [[Jar]] to use [[Healing Machine]]

 
 
+

* [[Amaranthus Extract]] can be found here. Requires [[Lockpick]]:[6], or key from Village Head

−
 
−

;Items

 
−

* [[Medical Canister]]

 
−

* [[Jar]] (requires [[Lockpick]] 4)

 
 

}}

 

}}

 
 
Line 35:
Line 31:
 

Monastery-Screen.jpg|Monastery Loading Screen

 

Monastery-Screen.jpg|Monastery Loading Screen

 

Monastery .jpg|Monastery Entrance

 

Monastery .jpg|Monastery Entrance

−

Monastery Interior Chamber.jpg|Monastery Interior Chamber

 
 

</gallery>

 

</gallery>

 
 
---
Latest revision as of 09:03, 26 July 2021
Monastery is one of the locations in the Empire.
Can be unlocked by healer in Maadoran Merchants Plaza after using her services three times - The Elixir quest.
Note - Do not visit until you're ready to face either the raiders or villagers, because the raiders eventually ransack the monastery.
NPCs[]
Village head - you can buy Alchemy components from him
Young Villager with crossbow - he's thinking about leaving
Villager with crossblow - standing outside house that's near the vault. He's not happy to see the PC despite his gratitude
Rewards[]
+15 skill points for violent path (unconfirmed)
+6 Civil skill points, +6 skill points, for peaceful path
Monastery Interior[]
This area is forbidden by the villagers (if they are alive).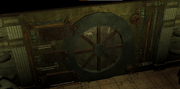 Titan's Gate[]
Used to lead to Monastery Interior Chamber. Inaccessible now.
Gallery[]