Teron Clothing Merchant
Each merchants shop is identical to the other. Both are at the Teron Merchants Plaza.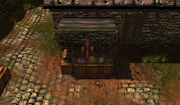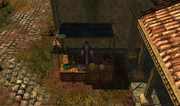 There are two clothing merchants at the plaza, one on the left side near the dwelling, one at the right side of the plaza up against the trade building.
Steal:[4] Required to steal from in front of the clothing merchant stalls.