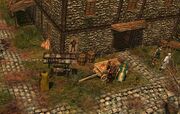 The Last Meal inn at Teron is where many stories begin for the player.
The Grifter, Drifter, and Mercenary all start at this cozy yet very tumultuous inn.
Quests
[
]
NPCs
[
]
Back Rooms
[
]
Purchase access to a room for 100 or 50 gold (Trading 3), allowing you access to the back rooms. You gain 1 Civil Skill Point per room successfully snuck into, and locks picked.
Main Floor

[

]
The doors require Lockpick 2, Sneak 2 is required to be able to step foot inside the empty rooms, and Lockpick 4 is required for each chest.
Second Floor

[

]
Room 1: (Sneak 5 to enter the room.) One patron has 22 gold and Gold Ring, the other patron has Iron Pugio (Masterwork, Balanced)
Room 2: 4 Bronze Plates, 4 Bronze Goblets
Room 3: [Magical Stash Chest] that follows you from one inn to the next, keeping your items safe while you adventure.
Room 4: Chest - Perception to notice the chest is trapped, Traps 4 to disarm it, Lockpick 5 to open the chest, containing 2.5 lbs of Steel, 1 Ruby Ring, 375 Gold. Shelf - contains Noble's cape, Odalisque's Garb, and Noble Clothes.
Room 5: Shelf contains 23 Gold, 1 Iron Pugio (Masterwork, Balanced), Noble dress, Noble Clothes. Sleeping Patron holds: 52 Gold, 1 Ruby Ring, 2 Gold Rings.
Gallery
[
]