Zamedi
Zamedi - once the second largest city, now ruins on the desert. One of the locations you could visit in The Age of Decadence.
For entrance you must have the Crimson Eye from certain Maadoran routes, or the Demon Core from the demon in Inferiae Village.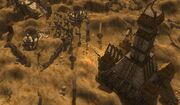 Upper level:
You can find the Mysterious artefact on a table and some alchemy components in a chest.
Go by the stairs to reach the top console.
Top Console checks:
Examine the image [ Intelligence + Lore = 15 ] and [Lore 7]. Allows you to discover weaknesses in the Guardian and use it as leverage later.
Try figure out how to use it [Intelligence + Lore = 18]. This check open a portal to Monastery Interior Chamber and there is a second check [Intelligence + Lore = 19] to open a portal to The Temple.
Basement:
You can find some boxes on the left corner of the basement. One of the boxes allow you to craft the Bolter - needs a [Lore + Crafting] check and 1 Power Module. Another box allows you to craft The Chopper [Crafting 5].